Conductor
John Anderson 
John studied at the Royal Academy of Music under the watchful eye of legendary percussionist James Blades. As a student John worked with many of the leading orchestras in the UK, including the Royal Philharmonic Orchestra. He later gained a Masters' degree in conducting from the University of Leeds.
John moved to Leeds in 1980 to take up the position of principal timpanist with the Orchestra of Opera North. In 1989 John left Opera North to become Music Director of the Grimethorpe Colliery Band. In 1990 he became Associate Conductor of the world famous Black Dyke Band and toured with them to New York, performing in Carnegie Hall and giving a master class at the Juilliard School of Music.
In 1995 John was the music director of the successful British-made feature film Brassed Off, recording the soundtrack with the Grimethorpe Colliery Band. He worked closely with the actors Pete Postlethwaite, Tara Fitzgerald and Ewan McGregor. In 2004 John was awarded a Gold Disc for sales of the soundtrack album. Brassed Off is frequently shown on Channel Four and Film Four.
John was a principal lecturer at Leeds College of Music from 1989 – 2013. During that time he became Assistant Head of Music, later taking on the role of Associate Head of Performance. He taught conducting and was principal conductor of the LCM Symphony Orchestra for 18 years. John served as a member of the Board of Governors from 2005 – 2010. In 2006 John travelled to Hong Kong, Beijing, Chengdu, Shanghai, Tokyo and Osaka, giving a series of lectures and master classes to help raise the international profile of the college.
As a freelance conductor John has worked with the Hallé Orchestra, Kazakh State Zambul Philharmonic Orchestra, Uralsk Philharmonic Orchestra, Bohuslav Martinu Philharmonic Orchestra, Yorkshire Chamber Orchestra, Sinfonia of Leeds, Huddersfield and Slaithwaite Philharmonic Orchestras, Stephen Hill Singers, Chorus of Opera North, Bradford Festival Chorus, Leeds Philharmonic Chorus and the Kazakh State Chorus (Kapella). He has worked with many eminent soloists including Paul Lewis, Raphael Wallfisch, Kathryn Stott, Wayne Marshall, Rafal Payne, Galya Bisengalieva, Lynne Dawson, Mary Plazas and Paul Nilon.
Since 2004 John has been a regular guest conductor with the Kazakh State Philharmonic Orchestra, which is based in Almaty, Kazakhstan. He has promoted the works of English composers and has given the Kazakh premières of Elgar's Enigma Variations, Vaughan Williams' Fifth Symphony and Holst's The Planets Suite. During his visit in 2013 Kazakh State Television made a documentary about John and his work in Kazakhstan. John returned to Kazakhstan in May 2015 to conduct The Music Makers by Edward Elgar and gave the première, in Almaty, of Handel's Messiah in December 2017.
John has been principal conductor and music director of the Airedale Symphony Orchestra for 30 years and is delighted to continue to work with this excellent group of talented and dedicated musicians.
---
Leader
Ian Banks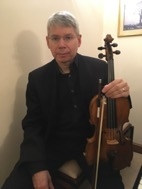 Ian Banks took up the violin late at the age of 11, but progressed rapidly under the tutorship of Barry Wilde of Northern Sinfonia in Newcastle-upon-Tyne.  Ian became leader of his county youth orchestra, and led them to success in the National Festival of Music for Youth.  This resulted in an appearance at the School's Prom in the Royal Albert Hall.
Ian eventually chose the safer option of a degree in mathematics from Cambridge University, followed by a career as an actuary, which has allowed him to pursue his musical interests on an amateur basis.  In 1987, he moved to Yorkshire and joined the Airedale Symphony Orchestra immediately, becoming its leader in 1997.
In 2002, work moved Ian to Manchester and he resigned from ASO, but stayed in touch and supported the Orchestra at many of its concerts.  In 2018, Ian was invited to lead the ASO again on a temporary basis, and then asked to become its permanent leader from September 2019.  Ian continues to live and work in the Manchester area, where he is a regular on the musical scene, playing with a number of orchestras, including the Stockport Symphony Orchestra.